Hidden away behind vast stone textile mills, and beautifully framed by the sweeping curve of the listed Charlton Viaduct, Kilver Court Gardens & Nursery in Somerset are an unexpected and quirky delight for visitors.
The three-and-a-half-acre Gardens, which have featured on BBC programs including Gardeners' World, are owned by Roger Saul, the founder of Mulberry and a renowned amateur gardener and plantsman.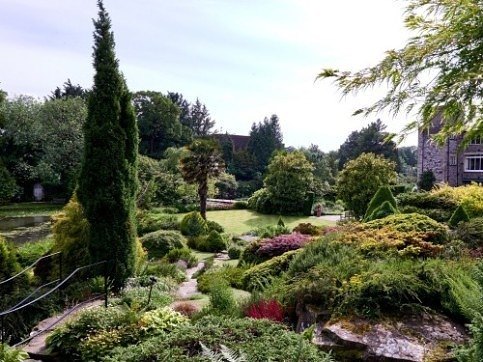 The Gardens were established in the early 1900s by industrialist Ernest Jardine as a beautiful and inspiring recreational space for workers at his lace mill. Since then, they've given enjoyment to generations of visitors and passed through owners including the Showering family (of Babycham fame) and Allied Domecq.
Roger bought Kilver Court as a headquarters for Mulberry in 1996, by which time serried ranks of roses had contributed a distinct 'corporation garden' look and feel to the three-and-a-half-acre site.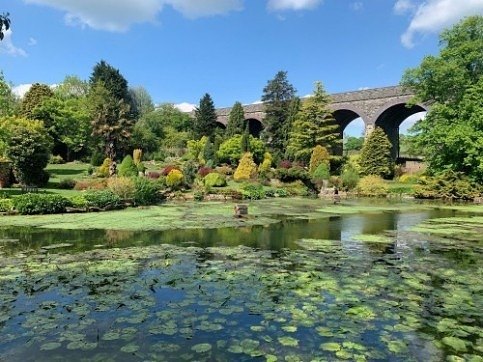 "My wife Monty and I both love gardening and garden design, so as soon as we discovered the 'hidden gardens of Somerset', we were itching to get our hands on them," admits Roger.
"There were some great features already in place, including the lake and the rockery by Chelsea Gold Medal winner George Whitelegg, and, of course, the majestic backdrop of the listed, 27-arch viaduct, which contributes to the Gardens' unique ambience and grandeur. All of this gave us lots to work with and build on."
One of their first design decisions was to replace the lines and lines of multi-coloured roses with a box parterre, inside which they planted two types of rose, 'Gertrude Jekyll' and 'Blue for You', underplanted with alliums to provide wonderful spring colour.
In 2018 a stumpery was added as well as the planting of giant gunneras, echiums and tree ferns around the lake to give a lush, sub-tropical feel that's contributed to it becoming one of Roger's favourite areas.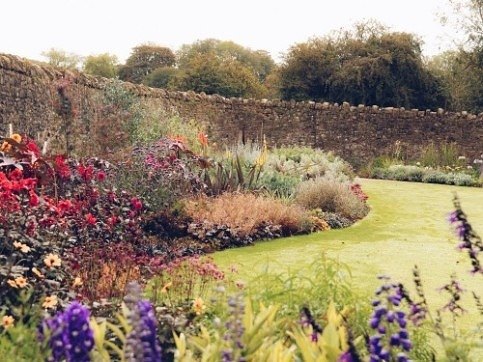 The couple's shared passion for plants and love of design continues to add layers of interest to the Gardens' rich history, with 2017 seeing the completion of an ambitious project to replant the 100-metre-long herbaceous border at the foot of the viaduct.
"For this border, I've taken the colourist principles I first explored in 1996 in relation to flower colour (inspired by conversations with Nori Pope of Hadspen House) and applied them to leaf colour.
The spectrum goes from yellows to salad-greens to mid-greens to bottle-greens, moving onto the deepest reds, purples, blacks and then to bronzes, silver-greens and silver-blues, right out to white. It's been such a satisfying project to work on, and it's given me an opportunity to share with visitors some of my favourite plants, many of which are semi-Mediterranean or sub-Tropical."
Roger and Monty's plant expertise, design eye and passion can be seen in every aspect of Kilver Court Gardens – even down to the plants, seeds, tools and products they handpick for the Garden Nursery – and they delight in sharing the gardens with others.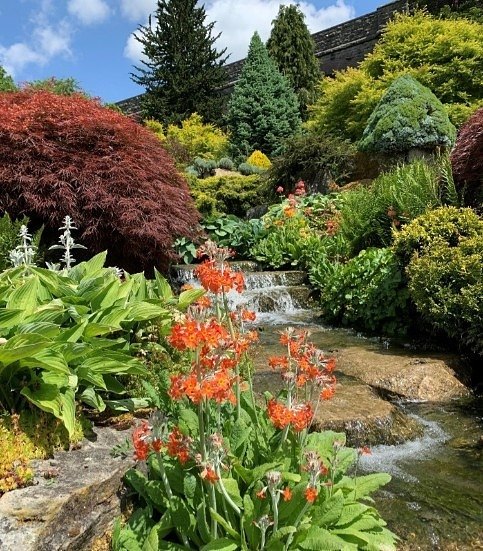 "I hope that you're as excited by the Gardens as I was when I first discovered them, and I'm confident you'll find lots here to inspire you." Roger Saul
Features
Three and a half acres of formal and informal gardens
Lake, streams and mini waterfall
Formal parterres
Chelsea Gold-Medal winning rockery
Stumpery
'Colourist' herbaceous borders
15-metre high, 27-arch Charlton Viaduct
Garden Nursery
Wiggly Shed nursery shop
Free parking.
–
If you're interested in finding more about the Kilver Court and it's beauty or maybe some other interesting places that you can enjoy, visit kilvercourt.com. –