SHOE W A R E H O U S E S A L E - U P T O 8 0 % O F F

Friday 25 June - Sunday 27 June
- Entry by pre-booked time slot only -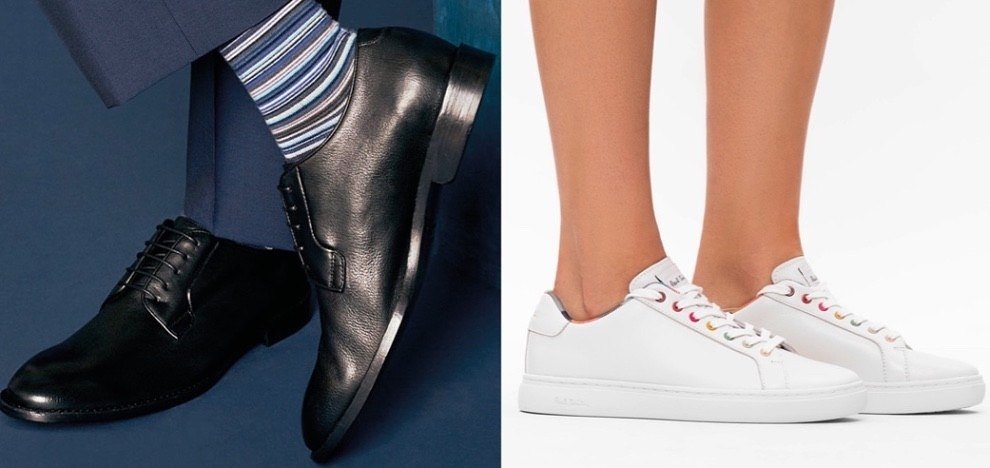 Welcome to the Paul Smith Warehouse Shoe Sale at Kilver Court Designer Village in Shepton Mallet, Somerset
There will be a wide and varied selection of Paul Smith Men's and Women's shoes with up to 80% off RRP.
PRICE LIST FOR MEN'S AND WOMEN'S SHOES
SNEAKERS £40

SMART SHOES £40

BOOTS £50

HEELS/WEDGES £35

FLAT SANDALS/ESPADRILLES £25

FLIP FLOPS £12

SOCKS £5 (5 FOR £20)



WHEN
: Friday 25 – Sunday 27 June in the Ballroom at Kilver Cour
t

Friday: 9am - 8pm (last session 7pm)Saturday: 9am - 6pm (last session 5pm)
Sunday: 9am - 6pm (last session 5pm)WHERE
: The Ballroom, Kilver Court Designer Village, Kilver Street, Shepton Mallet, Somerset BA4 5NF

COST
: £3.00 Donated to Mind in Somerset
Our aim is to ensure that everyone, no matter which slot you are able to book from day 1 to day 3, has an equally exciting selection of stock to choose from. To achieve this, we are randomly dividing the full section of stock into three packages, one for each day. Replenishments will be carefully rationed during the day as we try to ensure that each slot receives a fresh selection.

Please note that although we have done our best to spread key categories over the event, availability at any given time is of course still a feature of the overall size of the stock package we receive from the brand; certain key items may sell out if we only receive a small amount of stock in that category. Everyone attending must book a time slot and adhere to the Terms & Conditions attached to this booking.

TERMS & CONDITIONS OF TICKET PURCHASE FOR ENTRY TO PAUL SMITH SALE AT KILVER COURT
Friday 25 - Sunday 27 June
Ticket Sales are non-refundable and non-transferable.
100% of revenue from ticket sales shall be donated to the charity Mind in Somerset.
Please only attend if you are feeling well and not showing any symptoms of cough, temperature or loss or change in smell or taste.
Due to COVID-19 regulations, each customer needs to book a time slot as there will be only a limited number of customers in the sale at any one time.
Two tickets per person per day. Do not book multiple slots as these will be cancelled. Your name will be checked against your ticket at the door before entry, please bring ID.
Each time slot is time-limited. Payment is in a separate area; you will have limited time to shop and must have moved through to the till area before the end of your slot.
Please do not arrive more than 10 minutes before your slot, if you arrive late your shopping time will not be extended.
You will be required to use hand sanitiser and wear a face mask on entry to the sale.
All sales are final - no refunds, exchanges or credit notes.
There will be limited changing rooms under strict COVID controls.
Card payments are strongly advised, please help us remain safe by adhering to this. We reserve the right to alter the policy on the acceptance of cash at any time.
---